Want To Hear Dr. A. On the Radio?
Learn how learning disabilities can help or hinder in your everyday life.
Find out the difference between learning disabilities, learning disorders & learning difficulties
It's a whole new world out there. Find out what it takes to transition smoothly!
Find out what makes a bully tick, and learn how to avoid being the victim.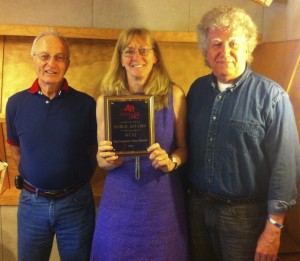 Dr. A. (right) appears with Dr. Marc Whaley and Mindy Todd, host of NPR affiliate WCAI/WNAN's  The Point with the 1st Place award for Best Call-in Show: Dealing With Post Traumatic Stress Disorder.
This radio program, on NPR's WCAI/WNAN The Point, with host Mindy Todd, won both an AP and a PRINDI award.
More programs from the Make Your Grade Radio Archives can be found by checking our On The Radio page under the Podcasts & Radio menu.