Now You Can Get The Book…even if you can't get to a psychologist!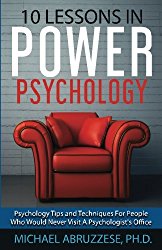 Why Not Have  A Better Life?
Using psychological knowledge can improve your life. These TEN LESSONS, written in commonsense, everyday language for older children and adults, is a short book meant to be read and used. It provides the psychological information readers need to help overcome obstacles and exceed expectations with just FOUR STEPS. You can read a chapter and start using the information immediately! How great is that?

Discover New And Easy Ways To:
•   Improve the quality of your sleep.
•   Help your child improve their grades.
•   Turbocharge your exercise workouts.
•    Increase your reading speed.
•    Improve your work relationships.
•    Reduce your worrying.
•    Stop procrastinating.
Praise for TEN LESSONS:
"Dr. Abruzzese distills  the vast progress that behavioral psychology has made in recent years into an easy to follow user's manual to make your brain more 'user friendly.'"
– Marc A. Whaley, M.D.

"These simple techniques can be followed by anyone and Dr. Abruzzese has put complicated psychology techniques into terms we can all understand."
                                                       – Mindy Todd, Host of The Point on NPR affiliate WCAI, (FM 94.3)
 ——————
This radio program, on NPR's The Point, with host Mindy Todd, won an AP and a PRINDI award.Dr. A. appears with Mindy and Psychiatrist Dr. Marc Whaley.
 ———————–